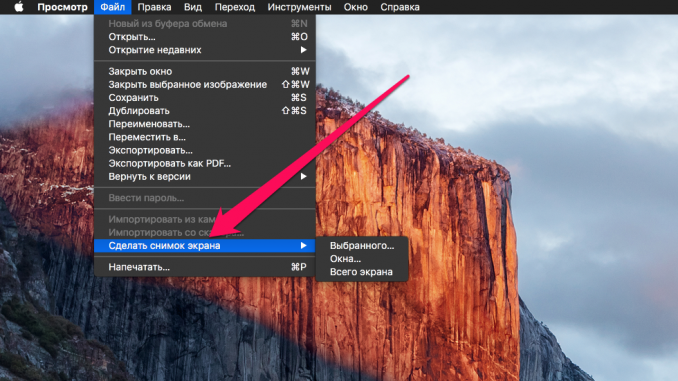 On the agenda in this instruction is an action that is not required to do very often, however, it is highly recommended that Mac owners be aware of this capability. In this little guide, let's talk about how to take a screenshot of a Mac without using a keyboard.
You need to take a screenshot without the help of the keyboard can in case, for example, this same keyboard has stopped working. Agree, the case is quite rare, but what the hell is not kidding, maybe you will one day have to face a similar situation. After reading this little instruction you will be on full alert in this case.
Step 1. Open any image in the app View » (opens the default images)
Step 2. Select menus File » → « Take a screenshot »
Step 3. In the list, select one of the options you want:
Selected – The option allows you to select a specific area of the screen, the screenshot of which will be taken
Window Allows you to take a screenshot of the window
Total screen Takes a screenshot of the entire screen of your Mac
Once the screenshot is taken, it will need to be saved by selecting the menu item File » → « Save and specifying where the image is saved. That's the simpleway you can take screenshots on your Mac without using a keyboard.
See also:
Put 5 stars at the bottom of the article if you like the topic. How to take a screenshot on a Mac without using a keyboard