For your own pleasure
Siri voice assistant has long been available only to iPhone and iPad owners. However, last year Apple did hear users and made the assistant part of macOS Sierra. Today we tell you how to set up Siri on your Mac and use the system every day for work and entertainment.
First, make sure you have macOS 10.12 on your computer. The next step is to open System settings » → Siri . This menu contains voice assistant settings that the user can change depending on their preferences.
To start communicating with Apple's artificial intelligence and use it to simplify everyday tasks, tick the box Turn on Siri and agree to send the company personal data to improve the voice assistant.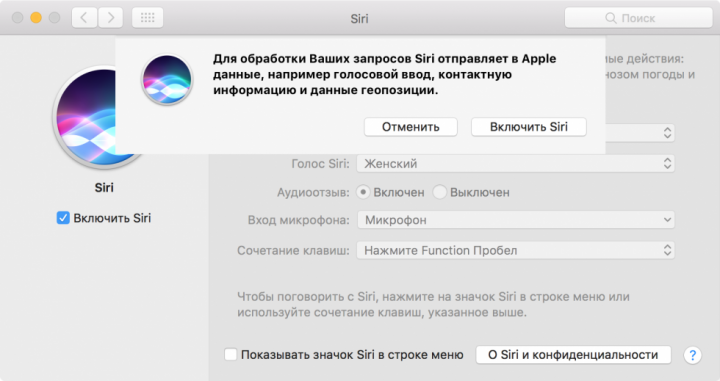 In the settings, you can choose the language you want to communicate with your assistant, as well as Siri's voice, male or female. Other options include audible accompaniment when you start the assistant and display the icon in the menu line. There is another useful feature in the menu – installing a combination of keys to start an assistant. You can use either the proposed shortcat system, or come up with your own – for this, choose Customize ».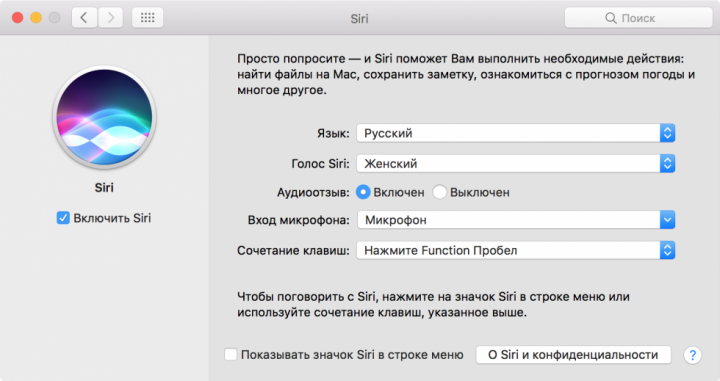 The easiest way to find out what a voice assistant can do is to ask him. Siri on Mac taught you how to open apps, search for emails, photos, files, and information on your computer and on the Internet, remind you of meetings, and call people on FaceTime or using an iPhone. The full list of the system's features is available Page Apple's support.
There are a lot of features, but I only use three. Every morning I ask Siri about the weather outside the window, then when I sit down to write, I ask you to include my favorite songs, and in the evening I beg her to make me work more.
They say that in macOS High Sierra Apple has worked on Siri, making the voice of a virtual assistant more human, and the answers to user's requests even more accurate. Perhaps it's time to upgrade to the latest version and check everything yourself.
Other useful articles:
Put 5 stars at the bottom of the article if you like the topic. How to use Siri on Your Mac